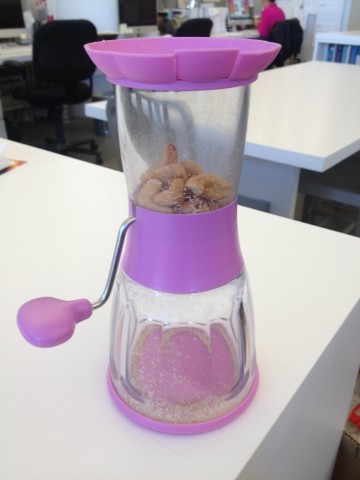 The best diets are not diets at all, in my humble opinion, but just plain ol' reasonable eating. You make sure you're dining mostly on nutritious stuff, with some, but not too much, of the bad stuff; get some exercise; and, voila, you're the picture of fitness and health. In a perfect world. The fact is, it's not always so easy to get the good vs. bad balance right -- and you don't even have to work at a food magazine with, oh say, fudgy pecan brownies, baked custards, and crisp mapley cookies there for the taking on any given day.
The hardest aspect of healthy eating, for me, is portion control. I just don't like the idea of being limited, dag nabit, even if the proper portion is an amount I would have chosen anyway. So I've resorted to tricking myself, which I'm not too proud to say, works pretty well. (Most of the time.) One of my latest tricks involves a little trompe l'oeil, with the aid of an unusual tool.
Each morning I eat most of my daily fruit servings for breakfast, topped with a serving of plain yogurt and whatever nuts I'm nuts about, lately cashews, for extra protein. (And yes, I do know that cashews aren't the healthiest nuts, but darn it, I like them.) A one-ounce portion of cashews is comprised of about 15-18 cashews, clocking in at around 160 calories and 12 grams of fat. The problem is, I like a bit of cashew in each bite. I was breaking cashews into pieces, but that meant that I was sometimes doubling -- or more -- the portion size to fulfill my symmetry requirements. Not. Good.
But when we received a sample of kitchen gadgets from Prepara, I remembered the portion-control trick Lesley, one of our food editors, uses for cheese: using a microplane to make less look like more. Enter the Prepara Topper Chopper, a simple handheld grinder meant to chop nuts or small candies. Each morning I put the 16 or so cashews into the Topper Chopper and grind away. And what I get is a goodly-seeming portion of cashews that will disperse throughout my breakfast so I can enjoy a little in each bite. And really, a little is all I need.
Now, if I could only say it worked as well with cookies.