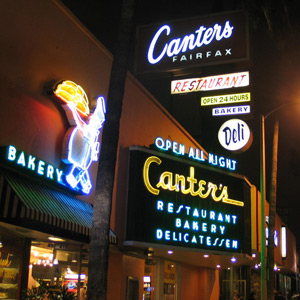 What do truckers, road trippers, club-goers, and college students have in common? Occasionally, they all need to sit down to a good midnight meal. Whether you need to refuel after a long haul on the road or stabilize after a night out, these awesome spots around the country for nocturnal noshing guarantee diners a full belly no matter where — or when — hunger strikes.
Sate Your Late-Night Cravings
You're up all night. You're starved. And you're looking for a bite that's a little more local and a little more exotic than Denny's or Waffle House. Look no further. We've rounded up the best places around the country that are dishing up food, 24-7. Now that's what we call service.
Beth's Café, Seattle, WA
Featured on the Travel Channel, the Food Network, and The Learning Channel, Beth's Café was voted "best place to cure a hangover" bySeattle Magazine. Patrons flock to it not only for its hearty American fare, but also for the huge portions, which makes it perfect for both late-night drinkers and families earlier in the evening, too.
Specialty: 12-egg omelet and all-you-can-eat hash browns.
7311 Aurora Ave N; (206) 782-5588bethscafe.com
Canter's Deli, Hollywood, CA
Restaurant, bakery, and deli all in one, Canter's has sold millions of pounds of lox, corned beef, matzo balls, bagels, and chicken soup over the years. Family-run since 1931, this business also boasts a full bar and cocktail lounge, and was voted Best Deli in the "Best of LA's Hotlist" contest.
Specialties: Meat and fish platters. Try the chicken in a pot or short ribs in a pot.
419 North Fairfax Avenue; (323) 651-2030 cantersdeli.com
Magnolia Café, Austin, TX
Magnolia's tagline says it all: "Everybody knows. Everybody goes." Austin's undisputed night-noshing hotspot, Magnolia keeps diners coming back with a Tex-Mex–heavy menu that's a step above typical diner fare.
Specialties: Try one of their Mag-Mex breakfasts, like Love Migas: eggs scrambled in fresh garlic-serrano "love butter" with peppers, tortilla chips, and Jack cheese, plus a side of black beans. Other popular standards include gingerbread pancakes and breakfast burritos. And, of course, no meal in Austin is complete without an order of queso, y'all.
2304 Lake Austin Blvd.; (512) 478-8645 themagnoliacafe.com
Clover Grill, New Orleans, LA
Get your 4 a.m. omelet served with a side of sass at this Big Easy fixture located in the heart of the French Quarter's gay section. If the staff's swagger doesn't tip you off to the diner's character, the menu certainly will. (One line advises: "If you're not served in 5 minutes, it may be another 5. Relax. This isn't New York City." Another proclaims: "Everyone brings happiness into this business: some when they come in, others when they leave.") Lines can be long — there are only 11 retro bar stools and a few tables, after all — but the waiting crowds know that eating at Clover isn't an end to the night, but another stop on the adventure.
Specialties: Three-egg omelets served with hasbrowns or grits, plus half-pound beef burgers cooked under a hubcap. And, according to the menu: "Our chili speaks for itself ... sooner or later."
900 Bourbon St.; (504) 598-1010
Majestic Diner, Atlanta, GA
You'll get plenty of food plus a lot of local character at this beloved Atlanta landmark, which has been offering "food that pleases" since 1929. The late-night Friday and Saturday crowds are hopping, though restaurant patrons enjoy Majestic's breakfast at all hours of the day. In true Southern style, all egg and omelette dishes are served with grits and toast, and their Blue Plate specials come with a choice of two sides, such as collard greens, mashed potatoes, and fried okra. Quesadillas and Southwestern egg dishes complement Greek options like chicken gyros and a baklava sundae.
Specialty: The gyro omelet: cooked with a mixture of veggies and feta cheese and topped with tzatziki
1031 Ponce De Leon Avenue; (404) 875-0276 majesticdiner.com
Pat's King of Steaks, Philadelphia, PA
When in Philly, do as the Philadelphians do, and finish off your night with cheese steaks. What better place than Pat's King of Steaks, which lays claim to inventing the iconic sandwich? According to legend, in 1930 founder Pat Olivieri grilled himself a concoction of chopped steak and onions on an Italian roll for lunch while working his hot dog stand. A regular customer insisted Pat make him the same. And it's been brotherly love ever since. This Philly hot spot has been visited by countless celebrities — even President Obama himself.
Specialty: Cheese steaks, of course! But be sure to heed the ordering instructions on the building. Improper orders may be ignored!
1237 E Passyunk Ave; (215) 468-1546 patskingofsteaks.com
Dysart's Truck Stop & Restaurant, Bangor, ME
When Dysart's Truck Stop opened its current location in 1967, owner Dave Dysart had a simple goal: feed drivers in the time it takes to fuel a truck (about 20 minutes). Since then, this out-of-the-way truck stop has maintained a large customer base of truckers, travelers, and loyal locals due to Dysart's hallmark hearty portions, courteous service, and affordable prices.
Specialty: After a satisfying helping of breakfast for dinner, have a slice of their blueberry pie with flaky homemade crust.
530 Cold Brook Road; (207) 942-4878 dysarts.com